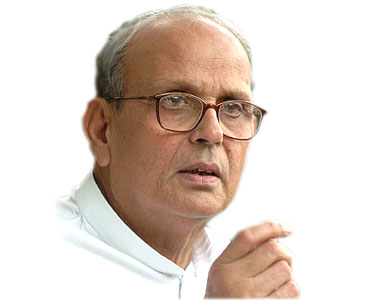 V.P. Singh, in full Vishwanath Pratap Singh, (born June 25, 1931, Allahabad, India—died November 27, 2008, New Delhi), politician and government official who was prime minister of India in 1989–90.
Singh studied at Allahabad and Pune (Poona) universities and became a member of the legislative assembly of his home state of Uttar Pradesh in 1969 as a member of the Indian National Congress(Congress Party). He won election to the Lok Sabha (lower chamber of the Indian parliament) in 1971 and was appointed a deputy minister of commerce by Prime Minister Indira Gandhi in 1974. He was minister of commerce in 1976–77, and, when Indira Gandhi returned to power in 1980, he served as chief minister (head of government) of Uttar Pradesh until 1982 and resumed his post as commerce minister in 1983.
Upon the death of Indira Gandhi in 1984, her son and successor as prime minister, Rajiv Gandhi, appointed Singh minister of finance. In that post Singh's efforts to reduce governmental regulation of business and to prosecute tax fraud attracted widespread praise. Singh was transferred to the post of minister of defense in January 1987, but he resigned from Gandhi's cabinet later that year, after his investigations of arms-procurement fraud were squelched. Soon afterward Singh resigned from the government altogether and left Gandhi's Congress (I) Party.
Singh was the principal founder in 1988 of the Janata Dal (JD), a merger of three small centrist opposition parties. Using the JD as the cornerstone, he soon began assembling a larger nationwide opposition coalition called the National Front (NF), which contested the general parliamentary elections of November 1989. After that election, Singh, as the NF leader, was able to form a coalition government in alliance with two other major opposition parties. He was sworn in as India's prime minister on December 2, 1989. After state legislative elections in March 1990, Singh's governing coalition achieved control of both houses of India's parliament. The coalition was soon riven by disputes having to do with religious and caste issues, however, and Singh resigned on November 7, 1990, after receiving a vote of no confidence in the Lok Sabha.
Almost immediately in office, Singh ran into problems. First he was forced to release militants in exchange for the daughter of his home minister who had been kidnapped. His most significant undertaking, however, was to try to implement the long-shelved recommendations of the Mandal Commission of 1979-80, a government-sponsored inquiry that had suggested setting aside a fixed quota of government jobs for India's poorest people, the so-called backward castes.
The plan, designed to create a more equal society, backfired hugely. Across the country there were agitations and demonstrations by upper-caste Indians who believed the move was unfair. In Delhi, a university student called Rajiv Goswami set himself on fire in front of a huge cheering crowd. He survived the ordeal but his actions reportedly triggered a number of copycat events. Singh had no choice but to shelve his plan to carry out the commission's recommendations (they were eventually implemented in 1993.)
Politically weakened, Singh suffered another blow the following year when he had arrested the leader of one his coalition allies who was running a campaign to pull down a mosque said to have been built on the site of a temple in Ayodhya, Uttar Pradesh that marked the birthplace of Lord Rama. The outraged party, the BJP, subsequently withdrew its support for Singh's coalition. Faced by a vote of confidence in parliament, Singh pleaded: "What kind of India do you want?". Such plantive cries were not enough; he lost the vote 142-346 and was forced to stand down.
Though an urbane and erudite man who enjoyed reading and painting, out of politics Singh appeared to lose much of his energy. His ability to form a coalition government would have a huge impact on other politicians and subsequent administrations. But away from the tussle, he appeared to lose some of his spirit.
In recent years, he had looked into getting back into politics but had been held back by poor health and a battle with recurring cancer. In 2005 he had relaunched his party with the support of one of his sons, Ajeya. It is he who will now lead the party his father created in next year's elections.