Narendra Modi (2014–2019; – 1st Time) & (2019 – _____; 2nd Time)
Narendra Modi, in full Narendra Damodardas Modi, (born September 17, 1950, Vadnagar, India), Indian politician and government official who rose to become a senior leader of the Bharatiya Janata Party (BJP). In 2014 he led his party to victory in elections to the Lok Sabha (lower chamber of the Indian parliament), after which he was sworn in as prime minister of India. Prior to that he had served (2001–14) as chief minister (head of government) of Gujarat state in western India.
Modi will be judged on his government's five year performance. How does his report card read? Underwhelming. Consider first, though the achievements. Ten stand out.
Flagship success
Ayushman Bharat: The health insurance scheme launched on September 23, 2018, has already benefited 10 lakh poor patients and could be an electoral game-changer. More than 500 million Indians who could not afford medical treatment for non-communicable illnesses like cancer and heart disease now have access to free healthcare.
The Insolvency and Bankruptcy Code: The legislation, enacted in December 2016, is the silver bullet to tackle India's chronic problem of non-performing assets. Banks have begun to recover debts that had seemingly turned irretrievably bad. "Phone banking" has ground to a halt.
Rural electrification: The Modi government's push to provide last-mile connectivity to hard-to-access rural clusters has been fairly successful. However, several villages cited as connected to the electrical grid still have households without power. Part of the problem is that some villages lie in areas controlled by Naxalites while in others the terrain makes access difficult.
Free LPG cylinders: Under the Ujjwala Yojana scheme, women in villages now have access to cooking gas. This has both health and economic benefits. Over 60 million free LPG connections have been given with nearly 50 per cent going to SC/ST households.
Sanitation: The Swachh Bharat Mission has built toilets at an unprecedented pace. Since October 2014, over 92 million toilets have been constructed, covering nearly 500 million households in one of the world's largest operations of its kind. Cultural habits, however, mean that open-air defecation remains endemic. Many newly-built toilets lack sewage facilities; others are being used as storage rooms. Nonetheless, a beginning has been made.
Digital transfer of subsidies: This has cut out most (though not all) middlemen who routinely siphoned off large chunks of benefits due to the poor. Rajiv Gandhi, the then Prime Minister, had famously said in December 1985, while addressing the 100th anniversary of the foundation of the Congress, that only 15 paise out of every rupee in subsidies reaches the poor. With digitised transfers that figure has probably risen to 75 paise.
However, lack of Internet connectivity in rural areas, combined with limited digital literacy among farmers and labourers, often leave them at the mercy of local officials to access their money electronically.
Infrastructure: There has been a steep rise in building roads, highways and metro networks as well as housing for the poor. These are long-term initiatives but the benefits are already visible. According to fact-checking sites, 12km of highways were constructed in 2013-14. This pace more than doubled to 27km per day in 2017-18. In Mumbai alone, coastal roads, a new airport and a large metro network could transform public transport in India's richest city that has long been infrastructure-poor.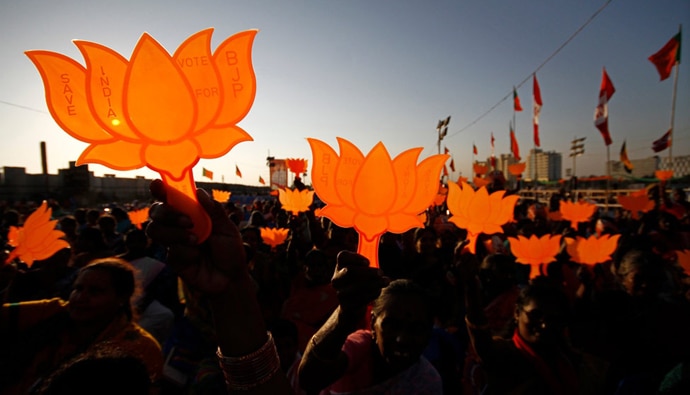 Modi has emerged as India's best election campaigner and executor of important developmental schemes.
Strong basics
Foreign policy: The government has repaired relations with China, the Maldives and Sri Lanka, built economic and geopolitical bridges to east Asia and west Asia and strengthened the strategic partnership with the US.
GST: The implementation of the goods and services tax was chaotic and its structure needlessly complex. Its benefits, though, are beginning to seep through the economy. Revenue is lower than expected but the removal of octroi, for example, has greatly helped the logistics and transport industries. The absence of state boundary checks means truckers save up to 30 per cent in fuel and time, raising productivity with quicker turnarounds.
All the PM's men
Boosting India's space programme: ISRO has proved that putting scientists and technocrats rather than bureaucrats in charge of key organisations pays dividends. The success of ISRO also highlights the government's lacunae in other areas of institution building.
Failures of the government across domains have taken some of the sheen off its concrete achievements. The Centre has let key institutions wither. A Lok Pal has not been appointed. The Central Bureau of Investigation and the Reserve Bank of Inadia have lacked strong, consistent leadership. A talent deficit is evident at all levels: the Cabinet, academic institutions and statutory bodies.
Tax laws lack certitude. The bureaucracy, in the defence and finance ministries in particular, has not distinguished itself. The Prime Minister's Office maintains a sphinx-like silence on key issues, allowing disinformation full play.
Modi is India's best election campaigner and executor of important developmental schemes. But as Prime Minister, you need to go beyond that and nurture talent.
The most successful leaders surround themselves with people smarter than themselves.
The Prime Minister, in contrast, is surrounded by people who are not smarter than him. That is, perhaps, the biggest failing of his prime ministership.
Achievements of 4.5 years of Modi govt?
-Highlights of 4.5 years of Modi govt:
Made India the Fastest Growing Economy overtaking China
Took GDP from 6.6 to 7.7
6+ crore toilets built
18,452 villages Electrified
(Gram Jyothi Yojana)
10 crore LPG connections
(Ujjwala Yojana)
1.5 crore houses built under PMAY scheme
(Housing for all by 2022)
AYUSHMAAN BHARAT
GST- one nation one tax
Demonetization
Surgical strikes
(Pakistan and Myanmar)
Jandhan Yojana
(31 crore bank a/c opened)
Swachh Bharat
Bharat Mala Project
(to build 35000 km highway across 16 states)
Sagar Mala project
(Modernizing 12 major and 185 minor ports)
Modi life insurance
(PM Jeevan Jyothi Bima Yojana, PM Suraksha Bima Yojana)
Mudra Loan
(More than 12 crore beneficiaries)
Massive Infrastructure projects
(Bullet trains, 14 lane EXPRESSWAY, FREIGHT only corridors, dams, Mumbai Trans harbour Link, Shivaji Memorial, STATUE OF UNITY, Gujarat – Gorakhpur Gas pipeline)
Average Highway construction 27 Km/day (during UPA-2 only 11.7 Km/ day)
Builds 33,361 km road in 4.5 year
1.86 lakh Bullet proof jackets and 1.59 lakh ballistic helmets for army
Jan Aushadhi Kendra
(Generic medicine at lesser price)
Fasal Bima Yojana
(Crop insurance scheme)
10% reservation for Economically weaker sections
PM Shram Yogi Mandhan
(Pension for unorganised sector)
PM Kisan Samman Nidhi
(12 crore farmers to get Rs.6000/ year)
Full Tax rebate upto annual income 5 lakh Rupees
Reduced Inflation from 6.4 to 4.1
Increased FDI from $36 billion (2014) to $60 billion (2017)
SMART CITY
MAKE IN INDIA
DIGITAL INDIA
STAND UP INDIA
SKILL INDIA
Krishi Sinchai Yojana
(Irrigation development)
Saubhagya Yojana
(Electricity for all households)
UJALA YOJANA
(Distributed over 30 crore LED bulbs )
Triple Talaq Ban
NAMAMI GANGE project
NITI AAYOG
Modi's '59 minute' Loan Scheme for MSME's
Solar power generation increased from 2.6GW to 22GW
Inland Waterways Transport
(First Container to carry goods from Kolkata to Varanasi on NW-1 on river Ganga)
International YOGA day
Beti Bachao Beti Padhao Scheme
TRAIN 18, Gatiman Express, Humsafar Express, Tejas Express, Antyodaya Express
The Benami Property Act was revived and enforced in 2016
(Attached 1500+ benami properties worth Rs.42 billion)
Insolvency and Bankruptcy Code 2016 passed
(Recovered 4 lakh crore NPAs)
Fugitive Economic Offenders bill 2018 passed
Improved relations with World Countries and uplifted the image of India at global level.
Moody's upgrade Sovereign Credit Rating of India to Baa2 from Baa3
Death penalty for child rapists
Cancelled Haj subsidy
Shaadi Shagun Scheme
Stopped illegal funding of foreign NGO's
No minority appeasement
One Rank One Pension (OROP)
Atal Pension Yojana
Adarsh Gram Yojana
Soil Health Card
Mission Indradhanush
BHIM App scheme
UDAN – (Ude desh ka Aam Nagarik)
(letting the common citizen of the country fly)
Announced 12 new AIIMS, 6 new IIT's
Setu Bharatam Project
(Overhaul 1500 British era bridges, to ensure Highways without railway crossing)
Sukanya Samridhi Yojana
Development of North East regions.
( First train to Meghalaya, Arunachal Pradesh , BOGIBEEL Bridge, 14 highway projects spanning 10,500 km, 20 major Railway projects etc)
Swadesh Dharshan Yojana
(Tourist Circuit)
Income Declaration Scheme 2016
S-400 defence deal with Russia,
RAFALE deal with France.
15 Chinook heavy lift helicopters,
22 Apache AH 64D attack helicopters.
7.47 lakh Kalashnikov Rifles to be made in India
145 M-777 Howitzers , 72,400 Modern Assault Rifles for Army.
India's successful inclusion into MTCR and Wassenaar Arrangement
Stopped leakages through Aadhaar Linkage, savings estimated over Rs.90,000 crores
Scamless Government,
Clean Government
No. of districts affected by naxals has come down from 126 to 52
Successfully handled DOKLAM issue
619+ terrorists killed till May 2018