How to Change Photo and Signature in PAN Card
Permanent Account Number (PAN) is a unique alphanumeric code which stores the financial history of a person. It can be used as an identity proof as well. Thus it is very necessary to have the correct information in the document. Photo and signature are very important in PAN. It is required for verification at the time of availing any financial service such as a loan, credit card, investment, etc. Thus, it is imperative that you get the photo and signature updated in the card so that you do not face any hassle in future. You have to follow the steps mentioned below to find out how to change photo and signature in PAN card:
Visit NSDL's website at https://www.onlineservices.nsdl.com/paam/endUserRegisterContact.html
Select "Changes or Correction in existing PAN data" from the "Application Type" option.
Select "Individual" from the "Category" menu
Now enter the "Applicant Information" and click on "Submit"
Note the generated token number and continue with the PAN application
Select how you want to perform KYC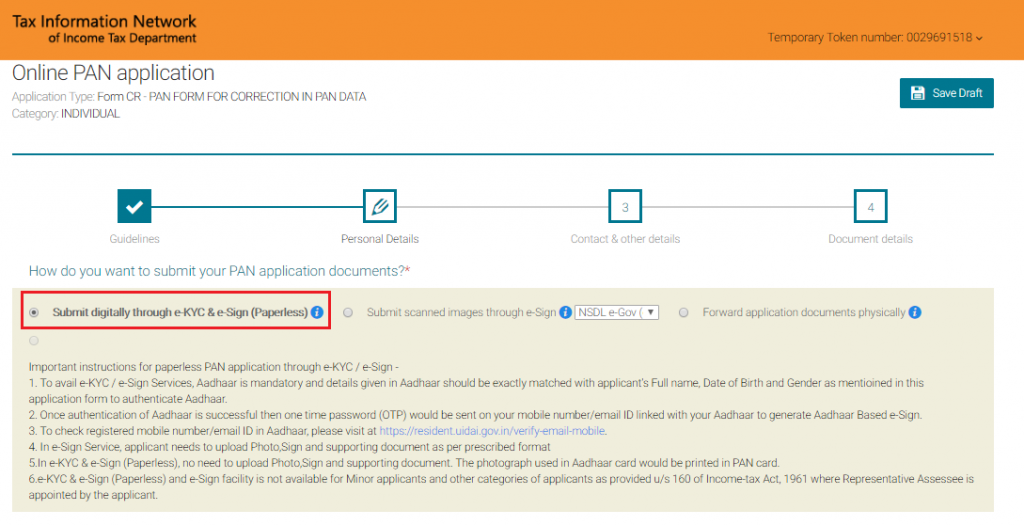 Enter other mandatory details such as Aadhaar/EID and other details
Tick on "Photo Mismatch" and "Signature Mismatch" and enter Father's or Mother's details and click on "Next" for PAN card signature change or photo update
Enter your personal details such as Address, contact details, etc. in the "Address and Contact" section
Provide proof of identity, proof of address and proof of date of birth
If you submit a copy of your Aadhaar card, the above three requirements will be fulfilled. You are also required to submit a copy of your PAN or PAN allotment Letter
Tick the declaration in the section and click on "Submit" to submit your details
Upload the scanned copy of the document proofs for verification
Now review the complete form and click on "Submit" to submit your details else you can click on "Edit" to update your details
Now you have to make a payment of ₹ 101 (including GST) if your address is within India and ₹ 1011 (including GST) if your address is outside India.
Save the application and take the print out of it
Send the application to NSDL's address to 'INCOME TAX PAN SERVICES UNIT (Managed by NSDL e-Governance Infrastructure Limited)' at 5th Floor Mantri Sterling, Plot No. 341, Survey No. 997/8, Model Colony, Near Deep Bungalow Chowk, Pune-411 016.
Do not forget to enclose required documents along with the form
You will get a 15-digit acknowledgement number that can be used to track the status of the application
Documents Required for Change Photo and Signature in PAN Card
An applicant has to provide any of the following documents at the time of change photo and signature in PAN card: 1. Passport 2. Person of Indian Origin (PIO) card issued by Government of India 3. Overseas Citizen of India (OCI) card issued by Government of India 4. Other national or citizenship Identification Number or Taxpayer Identification Number duly attested by "Apostille" 5. Aadhaar/e-Aadhaar 6. Elector's photo identity card 7. Driving license 8. Photo identity card issued by the Central Government or a State Government or a Public Sector Undertaking 9. Ration card having the photograph of the applicant
10. Central Government Health Scheme Card or Ex-servicemen Contributory Health Scheme photo card
11. Photo of the applicant. The PAN card photo size should be 3.5 cm x 2.5 cm or 132.28 pixels x 94.49 pixels.
It is worth noting that the PAN card image dimension (width and height) should be as mentioned above otherwise the application might not get approved.